Grankullavik's holiday village & Öland sports fishing center
Holiday with sun and bath, pleasant accommodation and lovely excursions.
Grankullavik Fritidsby is located on the northernmost island of Öland only 50 m from the sea, right next to the nature reserve Trollskogen. Grankullaviken is an excellent area for swimming and recreational fishing. The area is very child-friendly with large green areas, playground, small bicycles, rowing boats and tennis court. Rowing boats and tennis court are included in the cabin rental.
Here is a smaller sandy beach with two jetties and two rafts. The surroundings are also perfect for those seeking the tranquility and proximity to nature. Grankullavik Fritidsby with its well-equipped cottages is also a suitable base for a holiday on the northernmost Öland. It is as close to the Bay of Böda in the east as it is to the cliffs in the west, if you do not choose to swim in the bay outside the door.
Restaurant in the area in the summer time.
Free rowing boats 15/6 - 20/8. The mile-long sandy beach of Bödab Bay is 2 km. Many excursion destinations and Northern Europe's most beautiful cycle path in connection with the area.
Erbjudande 2020
Midsummer package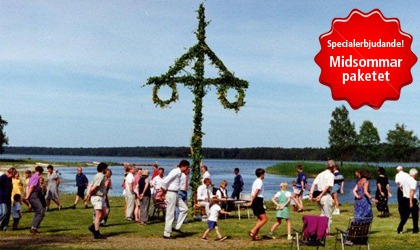 Celebrate Midsummer at Öland in one of our cottages, near the sea, swimming and Bödabukt's mile-long sandy beach.
OFFER 2020
Rent 2 weeks, pay for 1 (applies Week 25 and Week 26)
Cottage 43 m 2 4 beds: SEK 7,900 for 2 weeks
Double house 54 m2 + terrace 18 m2 with sea view, 2-6 beds: SEK 9,500 for 2 weeks
Rent cottage on Öland?
We offer the following:
Öland sports fishing center
The natural fishing
Gute Angelmöglichkeiten und leichtzugängliche Gewässer machen Öland und vor allem dessen nördlichen Teil zu einem hochklassigen Sportangel-Eldorado. Hier kann man in der einen Minute einen großen Hecht fangen, und in der nächsten eine Meeresforelle.
On the northern end of Öland lies Grankullaviken - a large bay which, through its protective location, inflow of brackish water, long vegetation period and shallow water, makes the Grankulla bay a high-producing reproductive area for nutrient organisms and houses a variety of fish species. Catching pike over 10 kilos is no coincidence and many anglers have experienced their life's dream fishing with us.
Read more »
THIS HAPPENS AT GRANKULLAVIK
Current events
CONTACT INFORMATION
Contact Us!
Är du intresserad av att hyra stuga? 
Kontakta oss redan idag så berättar vi mer!
ADDRESS
Grankullavägen 332
387 75 BYXELKROK